State of the art dog kennel facility.
Your canine is welcome to come play in our courtyards! For our guests, we provide careful attention from our attendants, deluxe kennels with indoor/outdoor runs, four clean outside play areas, Kuranda Beds and doubles for pets looking to stay together.
The play yards are designed to allow playtime while keeping your pet safe. Kuranda Beds are orthopedic and lifted off the floor for comfort. We feed Purina EN as our hospital diet.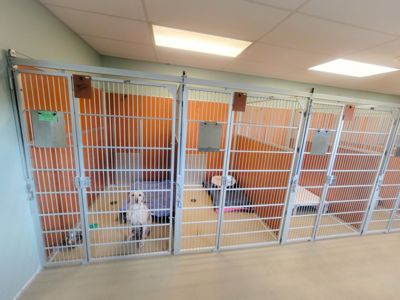 Why Board with Us
Onsite Medical Staff During Clinic Hours
Day Boarding Available
Limited Number of Kennels
One on One Playtime with Staff
Clean Environment
Lots of Outdoor Time
*Please note we are not responsible for personal items left with your pet.*
We are a Boarding Facility with an emphasis on Quality and Cleanliness
Air conditioned in the summertime and well heated during the winter
Music is always playing for residents
Outdoor pens are grassy and clean
Outdoor playtime is provided at least 4 times a day (weather permitting)
We offer enrichment zones for indoor play sessions with puzzles, snuffle mats, and games.
We supply safe toys and soft blankets
Canine Boarding Requirements
Current vaccination for DA2PP/DHLPP
Current vaccination for Rabies
Current Vaccination for Bordetella
Negative fecal exam within the past year
Current Flea and Tick preventatives required. Must be applied no less than 24 hours prior to check in. These are required not just for your pet, but for everyone's safety! This is to ensure we have a safe and healthy environment free of disease.